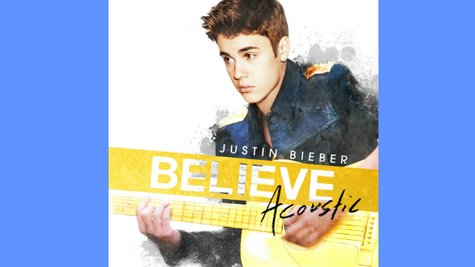 Justin Bieber's relentless hyping of his new album Believe Acoustic appears to have paid off. Billboard reports that "unless something highly unexpected happens," The Bieb's new disc will debut at #1 on the album chart next week. Industry sources tell the publication that the album will probably rack up a sales total of 180,000 to 190,000 copies by the end of the sales week.
If all goes as expected, Believe Acoustic will be Justin's fifth #1 album, following My World 2.0 , Never Say Never: The Remixes , Under the Mistletoe and Believe . That will make Justin the only artist ever to have scored that many chart-toppers before the age of 19. Currently, he's tied with Miley Cyrus , with four.
Further, if Believe Acoustic debuts at #1, it means that Justin will have racked up a #1 album in four consecutive years. Only nine other acts have ever done that in the entire 57-year history of the Billboard album chart, among them Elton John , The Beatles , The Rolling Stones , Jay-Z and Miley.
Copyright 2013 ABC News Radio