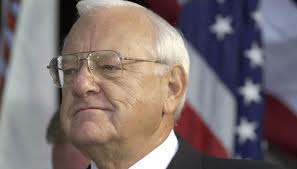 Ex-Illinois Gov. George Ryan will soon be leaving Terre Haute.
The 78 year old Ryan is serving a 6 1/2-year sentence here in Terre Haute at the Federal Prison for a 2006 corruption conviction.
The attorneys for the former Governor say that he is scheduled to be released to a Chicago halfway house at the end of January.
You'll remember that because Ryan's wife died last year while he was in prison.
Ryan was convicted of steering state contracts and leases to insiders in exchange for vacations and gifts while he was in office.