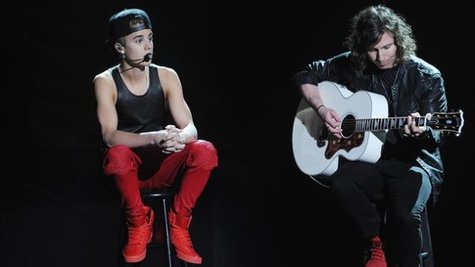 Six years ago this past week, Justin Bieber uploaded his very first video to YouTube. To celebrate the anniversary of that occasion, which led to his discovery and then his superstardom, Justin's posted a new video offering fans a taste of his upcoming disc, Believe Acoustic .
In the video , Justin, who's sitting on the arm of a couch while his guitar player sits nearby, says, "What's up, guys? It's actually been six years since I posted my first music video ever so we're gonna post right now a little preview of my acoustic album...one of my favorite songs on the album." He then launches into an acoustic rendition of "Take You," which originally appeared on his album Believe .
Justin got his big break when Scooter Braun , the man who'd become his manager, happened to see the young performer's cover version of "So Sick" by Ne-Yo . On Instagram, Braun posted a screen shot of Justin's video, and wrote, " 6 years ago stumbling upon this video changed my life and the lives of others forever. Still smiling."
In other Justin news, experts predict that at some point in the next 24 hours, he'll overtake Lady Gaga and score the record of the person with the most Twitter followers in the world. But Gaga doesn't seem to mind: she tweeted , "So proud of @justinbieber and all the Beliebers! I'm only happy to see your fans growing in size, you all deserve it! Monsters support you!"
Copyright 2013 ABC News Radio