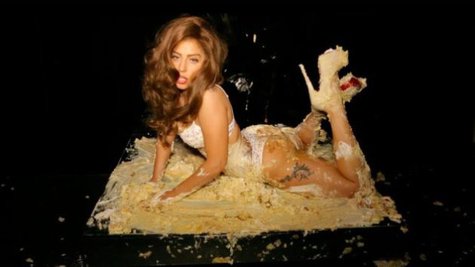 Which celebrity is out-there enough to go toe-to-toe with Mother Monster? The Warlock with tiger blood, of course. Charlie Sheen claims in an interview that Lady Gaga invited him to star in an X-rated music video with her.
Speaking to The Daily Beast , Sheen says that he and Gaga were put in touch with one another after they were both cast in the upcoming movie Machete Kills. Sheen tells the Daily Beast, "We didn't share any scenes but I actually spoke to her on the phone. She wanted me to do a music video with her that was going to be the first X-rated video."
Sheen says that the concept for the video was "her going to this strip club, with Britney Spears or somebody, and they're dancers and I'm the customer." The Anger Management star says that Gaga's plan was to do a "full striptease as a lapdance for me," and claims she told him, "If there's one person that should receive this X-rated lap dance, it's you."
So what happened? Sheen says, "I was so flattered, but we never spoke again." Winning!...not.
Copyright 2013 ABC News Radio