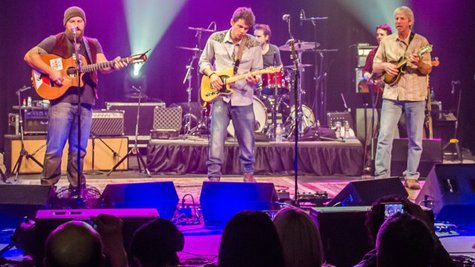 John Mayer 's first onstage vocal performance since April 1, 2011 was a big success -- at least in terms of the money it raised for a good cause. A benefit concert he organized to help the firefighters in his adopted hometown of Bozeman, Montana raised more than $100,000.
The event, dubbed "The Livingston Town Proper: A Concert to Benefit the Fighters of the Pine Creek Fire," was held Wednesday night in downtown Bozeman, and saw John joined by members of the Grammy-winning country group Zac Brown Band , among others. The money went to help those who last year battled a devastating fire in the town of Pine Creek, outside Bozeman. As a result of their efforts, only five homes, and no lives, were lost.
At the concert, John performed three songs from his most recent album, Born and Raised, as well as "Who Says," from his 2009 disc Battle Studies. It was the first time he'd sung in concert since a throat problem caused him to scrap his entire 2012 tour. In a statement, he said, "Putting on a concert to raise some money for the [fire] departments is the least I can do for a town and a community that has welcomed me with open arms."
John will discuss his vocal comeback February 10 in an interview on CBS Sunday Morning , according to the show's co-host, Anthony Mason . Mason says on his Twitter feed that John says of his vocal issues, "I don't have a ton of range ... I'm a 70-year-old version of myself." But, he adds, it's "better than nothing." It will be "months," according to Mason, until John's voice has fully recovered.
Copyright 2013 ABC News Radio