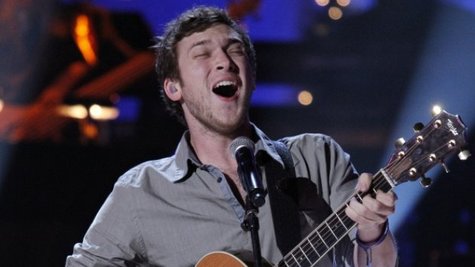 The new season of American Idol debuts on Wednesday night, but the guy who won the show last year isn't sure he'll be glued to the TV to catch it.
"I mean, I'm gonna try to, whenever I can, but hopefully, [I'll be] a little bit busy touring and playing," reigning Idol champ Phillip Phillips tells ABC News Radio. "But whenever I get some time, maybe I'll watch a little bit of it."
Phillip admits, though, that he's intrigued by the new panel of judges, which includes country superstar Keith Urban, Nicki Minaj and Mariah Carey , as well as returning judge Randy Jackson . Phillip says he's most excited about one of the judges in particular.
"Keith Urban, that's pretty awesome," he tells ABC News Radio. "You know, he's a great musician and maybe he'll be about the artistic side [of the contestants]." As for Mariah and Nicki, he says, "We'll see how the rest of 'em do."
Phillip says if he had had to audition for this new panel, rather than the previous one with Jennifer Lopez or Steven Tyler, he wouldn't have been any more or less intimidated. "I would have still been sweating like a pig like I did the first day," he laughs. "Either way, man...I still would have been nervous."
TV time watching may be difficult for Phillip to fit into his schedule, considering the fact that on January 29, he's kicking off a lengthy stint as Matchbox Twenty's opening act, which lasts until the end of February. He'll follow that up with his own headlining tour starting in March and running through May, when Idol wraps up.
Even if he's not watching, we'll see Phillip briefly in the very first American Idol episode Wednesday night -- reportedly, he's part of the taped introduction touting the show's history and success. It's also likely that he'll perform on the show at some point this season, since former contestants, especially champs, often come back.
Copyright 2013 ABC News Radio