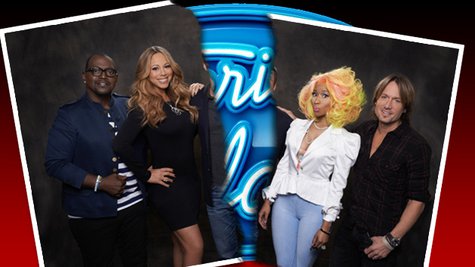 Last year, when TMZ released a poor-quality cell phone video showing Mariah Carey and Nicki Minaj going at it on the set of American Idol , some wondered if the show's new judging panel would be able to hold it together long enough for the new season premiere this month. But now, Mariah says things are just fine, and claims she's not sure how things got so out-of-control.
In the video, Nicki can be heard calling Mariah "her royal ****ing highness," while Mariah accuses Nicki of throwing a tantrum like a "3 year old." But now, Mariah tells the The Hollywood Reporter she has "yet to figure out why" the altercation between her and Nicki escalated. "Sometimes things get heated for their own reasons," she tells the publication, adding, "I don't think the panel has an issue." As for Nicki, The Hollywood Reporter says she "flat-out refuses to discuss" the incident.
As for why there was tension between the two judges in the first place, multiple sources tell The Hollywood Reporter that Mariah was promised "top billing" on American Idol , and was "pretty much assured" that if a fourth judge was hired, it wouldn't be another woman. But then along came Nicki.
Despite Mariah's contention that there's no drama on the panel now, Nicki still throws in a dig at her fellow judge while speaking to The Hollywood Reporter. Asked if she's been tempted to tone down her over-the-top look to appeal to Idol's Middle America viewership, Nicki tells the publication, "I could think of at least one other person that shows more cleavage and skin than me," and rolled her eyes towards Mariah's dressing room.
The new season of American Idol premieres January 16 on Fox.
Copyright 2013 ABC News Radio