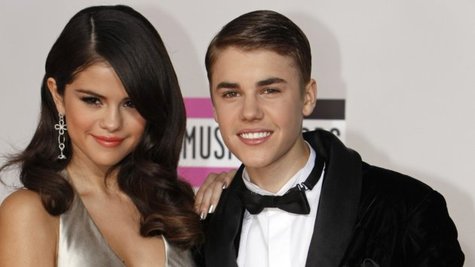 In 2012, Justin Bieber and Selena Gomez made headlines when they broke up, and then got together again. Well, it's a new year, and that means new relationship drama.
A source tells the New York Daily News that the couple flew to Mexico to spend New Year's Eve together, but then had a huge fight that was so bad that both of them left before 2013 arrived. The source says that Selena flew out of Mexico on December 30, and Justin left the following day, They reportedly haven't seen each other since the fight.
On January 1, Selena tweeted , "New beginnings. Fresh start. I love you all :)."
However, this may not be the end of "Jelena." "They keep breaking up and getting back together," the source told the paper. "It's an on-again, off-again relationship. It's probably not correct to characterize this as a final breakup."
What's the source of all the stress? Another insider told the Daily News ' Confidenti@l column that Selena's "been giving [Justin] a really hard time," adding, "She's been partying without him, and it drives him crazy."
Copyright 2013 ABC News Radio