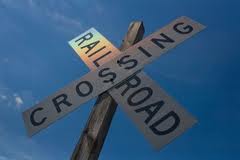 A truck / train accident Wednesday injures one man.
Terre Haute City Police say that the driver for Bell Trucking became stuck when the wheels of his semi trailer hopped the tracks near 11th and Swan and became lodged.
The driver was unable to free the truck before being hit by a train going about 30 mph.
The driver of the truck suffered only minor injuries.