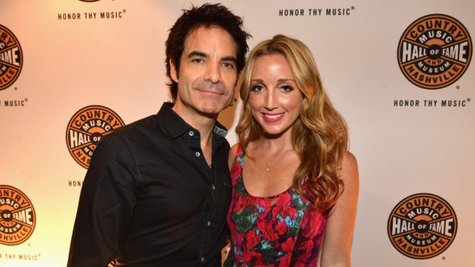 Train frontman Pat Monahan jumped the musical track on Tuesday night, performing at a benefit concert with some major country music stars and legends.
The occasion was "All for the Hall," a benefit for the Country Music Hall of Fame and Museum in Nashville, and in addition to Pat, the lineup included current country superstar Jason Aldean, and country icons Vince Gill and Emmylou Harris . And while Pat may seem an unlikely participant in such an event, the singer's actually been dipping his toe into the country music world for some time now.
You may recall that Pat duetted with Martina McBride on her version of Train's "Marry Me," and sings with rising country star Ashley Monroe on "Bruises," a country tune that appears on Train's current album California 37 . Ashley, who's in the group Pistol Annies with country star Miranda Lambert , was also on the bill Tuesday night and sang with Pat.
Before the show, as the performers mingled with reporters, Pat told ABC News Radio, "I don't know how they conned them into letting me be a part of this but I'm grateful. I listen to everybody's music that is in this room, and everybody that has been in the Country Music Hall of Fame." He added, "Just because I'm not a country artist doesn't mean that I don't love it. You know, I really do love it."
And Pat and the band definitely love his "Bruises" duet partner Ashley; in fact, he revealed to ABC News Radio that she's going to be a special guest on the band's Mermaids of Alcatraz tour this summer, along with Gavin DeGraw and The Script . "Ashley's going to come out with us," Pat said, "That hasn't been announced yet, but I'm announcing it because and they'll yell at me tomorrow, but I don't care!"
In other Train news, Wednesday sees the premiere of the band's video for their new single "Mermaid," which features cameos of many top football players. "We shot 'Mermaid' in Hawaii during the Pro Bowl," Pat tells ABC News Radio. "It took 'til the last second to get, like Peyton Manning to okay being in it. I got to hang out with Marcus Allen and some really incredible players from the past."
But unfortunately, the football stars aren't going to be wearing outfits that reflect the song's lyrics. Pat says, "They're not wearing mermaid costumes. No one is except at the very end. The girl in it, you just see a tail in the water. It's really cool."
Copyright 2013 ABC News Radio