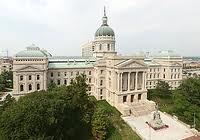 Indiana lawmakers are considering deregulating a number of professions, including real estate brokers, home inspectors and several others.
Nail salons and dozens of others lumped under the "beauty culture" umbrella are also under review.
Senate Bill 520 calls for the creation of the Eliminate, Reduce and Streamline Employee Regulation Committee, or ERASER, to decide if more than a dozen industries can do without licenses.
Professionals in the industry say doing away with licensing would be disastrous because there would then be no requirements when it comes to maintaining a sanitary environment or in the safe handling of many of the chemicals involved in the industry.