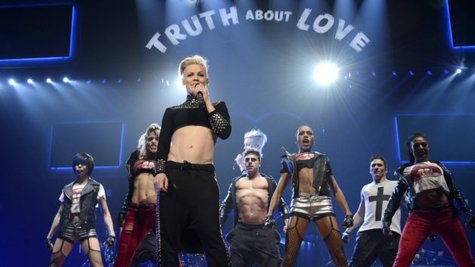 Pink's The Truth About Love tour kicked off earlier this month, and since then, fans have marveled at the singer's amazing acrobatic feats as she soars above the crowd, performs all kinds of flips and twists and hangs upside down without missing a note. Now, Pink's taken to Twitter to explain that she's just trying to show her daughter Willow what a girl is capable of.
"Thanks to all the beautiful people that have come/will come to our show. So stoked on what we're all able to share. Wildest dreams y'all.," wrote Pink. "Also -- all the comments on my 'body' good + bad, this body is capable of so much. Im grateful for my strong body that carries me thru the world."

The singer, whose rock-hard bod was on display Monday as she frolicked on the beach with Willow and husband Carey Hart , added, "I lead by example when my little girl looks at me, and I show her that a woman can accomplish anything, and not based on her looks alone."
Not that being a role model means that Pink has to be deadly serious. She showed off her sense of humor when a fan responded to her tweet about leading by example by asking her, "Do you believe in spanking?" The singer replied, "Only Carey. It seems to be the only thing that gets through to him..."
Copyright 2013 ABC News Radio