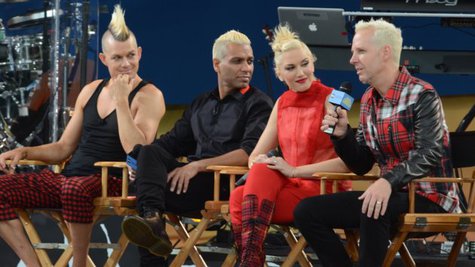 No Doubt's 2012 album Push and Shove was years in the making, and the band apparently doesn't want to wait that long for the follow-up. Gwen Stefani and the guys announced on their Facebook page that they're in the studio right now, and are putting tour plans on hold to "follow their muse."
" While we were traveling the world last year promoting Push and Shove, Gwen mentioned she was inspired to write new music," states the message. "In December, around the time of our hometown shows, we discussed the idea of starting 2013 by getting back into the studio together. We did so in January and the new music started flowin g with unexpected ease. After spending three years recording the last album, this new pace feels incredibly exciting."
No Doubt add that they've decided to "focus on this new music that we don't want to stop," so they're "postponing" their tour plans "briefly" while they "endeavor to create something special and inspired." The band says their goal is to "share this new music with you as quickly as possible -- both recorded and live on tour."

Push and Shove came out this past September. The group followed it up with an extensive tour.
Copyright 2013 ABC News Radio