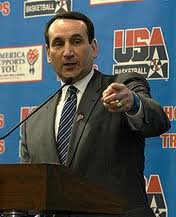 Coach Mike Kryzewski says he will step down as the U.S. men's basketball coach after two gold medals.
Coach K has led the Americans to Olympic gold's in the past two Olympic summer games. The Americans also won the world basketball championship in 2010 with Coach K.
Under his guidance the Americans haven't lost a game since the 2006 worlds, which was their first tournament with Kryzewski as coach.
Coach K continues to coach the Duke Blue Devils in the NCAA and holds the record for most wins in a career.