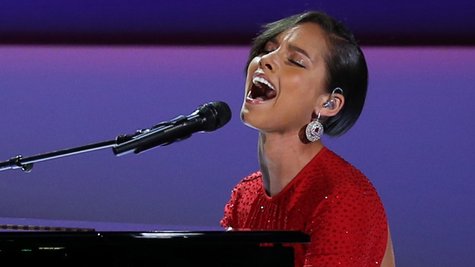 Alicia Keys is kicking off the third season of Oprah's Master Class , and in a promo video for this Sunday's episode, the Grammy Award-winner dishes on the pitfalls of fame.
"You're meeting people who are lying to you to get whatever they want out of you," says Alicia, who broke onto the music scene with her 2001 album debut, Songs in A Minor . The set topped the Billboard charts, and earned five Grammy Awards for Alicia, who was quickly becoming an international star.
The singer, who grew up in New York City, says things seemingly happened overnight. "I was running from pimps and prostitutes, to 'BOOM!' I was on The Oprah [Winfrey] Show ," she says.
Also in the upcoming episode, Alicia talks about her husband Swizz Beatz . "I 've never met a person like him, ever," says Alicia, who tied the knot with Swizz during a private ceremony on the French island of Corsica in July 2010.
Alicia, who has found joy in raising her and Swizz's 2-year-old son, Egypt, also talks about her own childhood. In a conversation about family, she alludes to strain she felt growing up. "I realized that the only person that gets hurt from all this anger is me," she says.

Alicia's appearance on Oprah's Master Class airs this Sunday on Oprah Winfrey's OWN Network at 10 p.m. ET/9 p.m. CT.
Copyright 2013 ABC News Radio