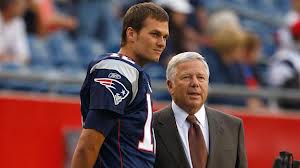 Tom Brady has signed a contract extension with New England that will make him a Patriot for life.
Brady, 35, signed a three-year contract extension on Monday worth a reported $27 million. The contract will also free up about $15 million in cap room for a young talented team.
Brady is a two-time NFL MVP and will play at least 5 more years under the new contract.
The three-time Super Bowl Champ will make less than other star quarterbacks in the league but Brady seems content with his $72 million deal with $48 million guaranteed.
Drew Brees and Peyton Manning are the highest paid NFL quarterbacks. Brees brings in an average of $20 million a year while Manning earns a respectable $18 million a year.