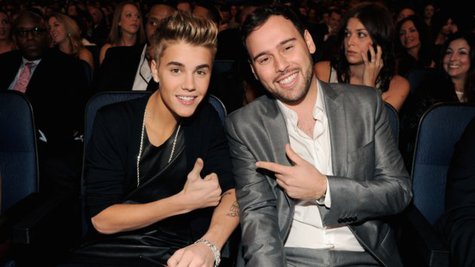 Justin Bieber 's manager Scooter Braun is putting his name, and his stable of artists, behind a campaign to end the problem of child hunger in America. Nearly 17 million kids -- more than one in five -- don't always know where their next meal is coming from.
Called "Child Hunger Ends Here," the campaign, backed by ConAgra Foods, aims to donate the monetary equivalent of three million meals to Feeding America, a charity which fights hunger nationwide.
Scooter's stable of artists, including Justin Bieber , The Wanted , Carly Rae Jepsen , Tori Kelly , Amber Riley of Glee and Cody Simpson , all will help raise awareness of child hunger and ask consumers to take action. Some of the artists will doing press, some will actually be visiting food banks and some will use social media to spread the word.
Justin Bieber's helping to lead the charge on the campaign: Scooter tells ABC News Radio that he asked for it to be extended into his home country of Canada.
"For him, this was very close to him," explains Scooter. "Justin, as a kid, he went into food banks, and that's how him and his mom were able to get food...to provide for themselves, because he didn't grow up with a lot. So when he saw the campaign, he was 100 percent in, but even, furthermore, insisted that it extend beyond the United States and into Canada, and specifically into food banks that he used to go to himself."
Part of the campaign involves an original song, "Fill a Heart," written by Tori. Amber and Cody have also recorded versions of the song -- as will some other artists who Scooter says he can't name right now -- and you'll be able to download them all at ChildHungerEndsHere.com starting March 1. Exclusive behind-the-scenes video content will also be available.
As for why Scooter and his artists decided to get behind this campaign, he tells ABC News Radio that they were appalled to learn just how many millions of children go hungry in this country every day.
"I think it's a staggering fact. We know how much food is just sitting out there, how much food is thrown away in this this country and when you hear that number, it's unacceptable," says Scooter. "This was not a hard sell to my group...everybody wanted to be involved."

Here's how you can help the Child Hunger Ends Here campaign: look for specially-marked packages of Con Agra food brands in your local supermarket, including Orville Redenbacher's, Healthy Choice, Peter Pan and Banquet. Then, visit ChildHungerEndsHere.com or the campaign's Facebook page to enter the eight digit-code found on the package. For each code entered, the equivalent of one meal will be donated by ConAgra to Feeding America.
Copyright 2013 ABC News Radio