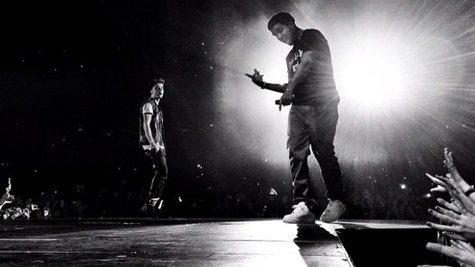 Justin Bieber may have just released Believe Acoustic , but that doesn't mean he's forgotten about the album that came first: Believe . The new single from that set will be out next week, and it features a fellow Canadian: Drake .
"New single off of #BELIEVE ??," Justin tweeted . "The next single u should blast up the iTunes Chart & request at radio?? I'm thinking #RightHere feat @Drake."
Justin then revealed " Right Here's " release date, writing , "So next Tuesday #7days plan on blasting #RightHere feat Drizzy @Drake up the chart! #beliebers and #teambieber go hard. #7days #RightHere."
"Right Here" is one of the few songs from Believe that Justin didn't remake for Believe Acoustic.
Speaking about his friendship with Drake, Justin told MTV , "We talk about everything. He's a great guy and super-talented, and his melodies are crazy." In April, he and the Toronto rapper will be facing off against each other for the Fan Choice trophy at this year's Juno Awards, the Canadian Grammys.
Copyright 2013 ABC News Radio