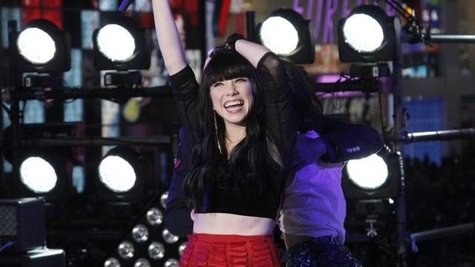 As one of the most successful Canadian recording artists of the past 12 months, it's no surprise that Carly Rae Jepsen has scored a leading five nominations for this year's Juno Awards, the Canadian equivalent of the Grammy Awards.
Carly is nominated in the categories of Artist of the Year, Album and Pop Album of the Year for Kiss , Single of the Year for "Call Me Maybe," and JUNO Fan Choice. Carly has also been announced as one of the performers on the Juno telecast, which will air April 21, live from Regina, Saskatchewan, with Michael Buble as the host.
A thrilled Carly tweeted , "Wow!!! Just found out I've been nominated for 5 @theJUNOawards ~ Im thrilled and honored. Thank you."
Carly tells ABC News Radio that she enjoys singing on awards shows, even though the experience is, as she puts it, "[a] very surreal world." "It does feel like a big celebration and you look to your left and there's one celebrity, and you look to your right and there's somebody else," Carly says. "But it's really enjoyable. I have a blast."
Justin Bieber , who helped make Carly a star outside of Canada, received four nominations, including Album of the Year and Pop Album of the Year for Believe , plus Artist of the Year and JUNO Fan Choice. He tweeted, "nice! 4 nominations for the @TheJUNOAwards and @carlyraejepsen got 5. Everyone get ready to vote! #CANADA ."
Drake , Nickelback and Michael Buble are also nominated in the JUNO Fan Choice Catetory.
In the International Album of the Year category, nominees include One Direction's Up All Night , Maroon 5's Overexposed , Taylor Swift's Red , and Babel by Mumford & Sons .
Copyright 2013 ABC News Radio