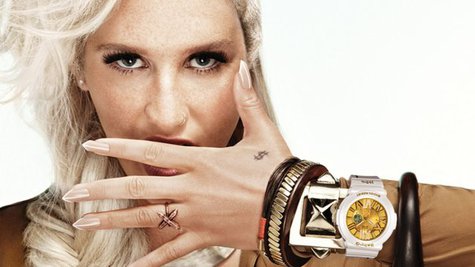 By now, you've probably heard that story about how Ke$ha supposedly claimed that on her upcoming MTV reality show, we'll see her drink her own urine. Well, it turns out that it's true: Ke$ha did actually say that, and went into way more detail than you probably want to hear.
During an interview on BBC Radio 1 with deejay Scott Mills , Ke$ha started describing what crazy things viewers will see on the MTV show, for which her brother and his friend followed her around with cameras, capturing every moment. Ke$ha mentioned that fans will see her drunk, crying, jumping out of airplanes, swimming with sharks and "making out with dudes," and then she offhandedly mentioned that we'll also see her drinking her own pee.
For some reason, Mills didn't pick up on this, and asked Ke$ha to tell him the craziest thing we'll see her do in the show. That's when she brought up the subject again.
"Probably me just drinking my own pee," repeated Ke$ha. When Mills asked why on earth she would do a thing like that, Ke$ha said, "Because it's good for you...someone had told me that it was really good for you, so I wanted to try it 'cause I'm super healthy."
The singer went on to relate how, while in Brazil, she peed into a container and was contemplating drinking it when someone told her not to. Well, that was that: she just had to do it. "He tried to take my pee away from me," explained Ke$ha. "And so then I snatched it up and took a chug, and it was really gross." Suffice it to say, she no longer makes that part of her health regimen.
Ke$ha: My Crazy Beautiful Life , the MTV series, will premiere in April.
Copyright 2013 ABC News Radio