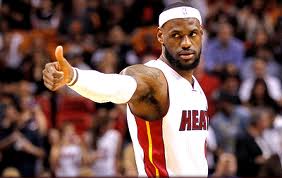 It's an accomplishment no other NBA player in history has under their belt, not even Michael Jordan.
Lebron James and the Heat faced the Portland Trailblazers Tuesday night and Lebron scored 30 points while shooting 60 percent. James has done this in 6 straight games.
Chris Bosh added 32 points with 11 rebounds and the Miami Heat won their 1,000th game in franchise history against the Trailblazers 117-104.
Dwayne Wade finished with 24 points and Ray Allen added 14.
King James will try and add to the record Thursday night as the Heat take on the Oklahoma City Thunder.