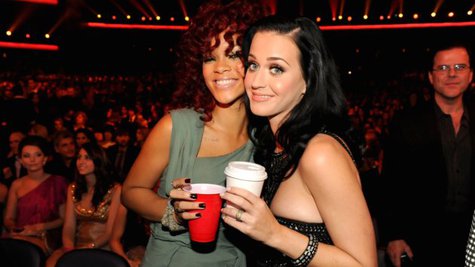 Katy Perry and Rihanna were once BFFs, but now, a man has come between them: Chris Brown . Us Weekly magazine claims that because of Rihanna's rekindled romance with Chris, their friendship isn't what it used to be.
An insider told the magazine, "They aren't tight anymore because Katy doesn't approve of Rihanna dating Chris." At the Grammy Awards, Katy and boyfriend John Mayer were sitting in the front row, while Rihanna and Chris were sitting in another part of the audience. At past Grammys, the two girls had sat right next to one another.
Ironically, it was also recently reported that Rihanna had fallen out with Katy because she didn't approve of Katy dating known womanizer John. When asked about this by Rolling Stone magazine, Rihanna dismissed the report, and laughed, "Katy Perry can date anyone she wants. Besides, who the f**k am I to say anything? I could never given relationship advice to anybody!"
Copyright 2013 ABC News Radio