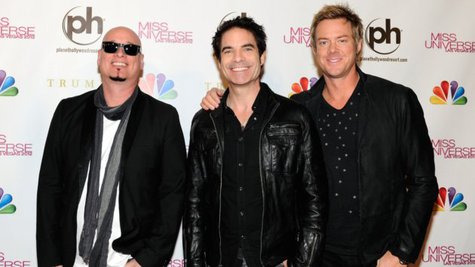 Train's gotta be the luckiest and the unluckiest band in the world. Their new single "Mermaid" has been chosen to soundtrack the official trailer for Sports Illustrated's annual swimsuit edition...but apparently, they didn't get to tag along for the filming and get up-close-and-personal with the models.
In the trailer, you can hear "Mermaid" playing as we follow the gorgeous Sports Illustrated models across seven continents, where they pose seductively in barely-there bikinis in the snow, in the desert, on rocks, in a river and, of course, on the sand. "Beauty in the water/angel on the beach/Ocean's daughter/I thought love was out of reach," sings frontman Pat Monahan . Unfortunately, he's nowhere to be seen, and neither are guitarist Jimmy Stafford or drummer Scott Underwood .
The Sports Illustrated Swimsuit Issue comes out on Tuesday, with bodacious Kate Upton on the cover. Train's "Mermaids of Alcatraz" summer tour kicks off in July.
Copyright 2013 ABC News Radio