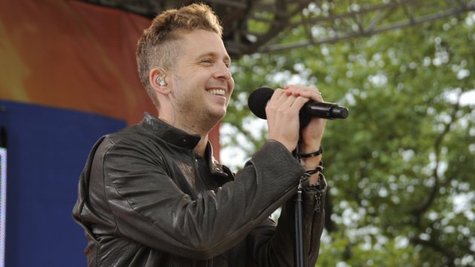 OneRepublic 's Ryan Tedder is a busy man these days: he finally finished the band's new album, Native , and they're about to head out on a sold-out European tour. It's no wonder he doesn't have time to watch a lot of TV, but he does have a message for people who do: stop hating on Smash.
The NBC musical dramedy, set in the world of Broadway musical theater, stars American Idol alum Katharine McPhee as an ingenue who lands a role in a Broadway show about Marilyn Monroe . Despite the presence of big stars like Emmy winner Debra Messing and Oscar winner Anjelica Huston , the show has taken a bashing from both critics and fans, and is often mentioned as a series that people "hate-watch." Last week, the second-season premiere tanked despite the addition of Jennifer Hudson to the cast.
But Ryan, who appeared as himself in season one, and wrote and produced a number for Katharine to sing in that same episode, doesn't understand why people seem to be so down on the show. "I don't know why anybody hates it," he says. "I mean, how can you hate on anything Anjelica Huston's attached to?"
Recalling his appearance on the show last March, Ryan says he was terrified, "I used to act when I was in college and high school and I thought I was gonna be an actor...and then I hadn't done it for ten years, and then the first thing I do is trading lines with Anjelica Huston!"
"I've stood in front of stadiums, opening for U2 , and done songs and been fine -- I was never more nervous than standing next to Anjelica Huston," he adds.
So why do people have a problem with Smash ? Critics believe that with its budget and its pedigree -- Steven Spielberg is an executive producer, for example -- it should somehow be better than it is. The general consensus is that it started out strong and then it was all downhill. In addition, some people feel it's too campy and over-the-top.
"I mean it's very camp, but in a good way," Ryan says. "I enjoyed it. I watched, probably, two-thirds of last season." But Ryan says he hasn't seen the rest, or the first episode of the new season, because he's currently watching Portlandia.
By the way, Ryan says that on top of the new OneRepublic album, he's also working on Gavin DeGraw 's next album, and he's having discussions about working with The Voice winner Cassadee Pope .
Copyright 2013 ABC News Radio