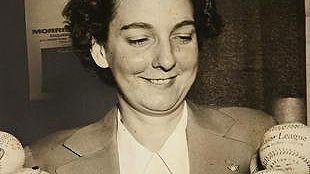 The first ever professional baseball female scout has passed away.
Edith Houghton died at 100 years old Saturday February 2 in Sarasota, Florida.
In 1922 and Houghton was already known as a prodigy. She first played professional baseball at age 10 for the Philadelphia Bobbies and started at short stop for the all-female team. In 1925 Houghton was traveling to Japan to compete against men's teams.
After her professional career in baseball Houghton was hired in 1946 by Bob Carpenter, owner of the Philadelphia Phillies. She worked as a scout for the Phillies until 1952 signing 15 players to contracts.
Houghton passed away just 8 days before her 101st birthday.
The National Baseball Hall of Fame has Houghton's gear and baseball cap on display in Cooperstown, New York.