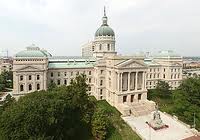 A bill will go up for debate Wednesday to decide if students who pay out-of-state tuition should be allowed to vote in Indiana's elections.
Rep. Peggy Mayfield, R-Martinsville, has introduced the bill that sets out to restrict students who pay out-of state tuition from gaining precinct residency and having the ability to vote in state elections.
Critics argued this republican-sponsored bill is an attempt to keep young, often liberal voters, from the polls.
Other opponents said making out-of-state students wait longer than the 30 days currently required to acquire voting rights is unconstitutional.
Those that are for the bill say that it's not fair that those who don't really call Indiana their permanent residence be allowed a voice in local policies.