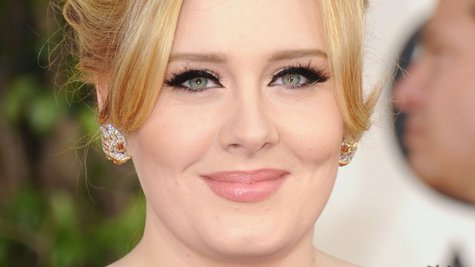 Seeing Adele on the Grammy Awards Sunday night may have whetted fans' appetites for new music from the singer, but it looks like they'll have to wait a while for it. Adele says she hasn't made much progress on the follow-up to her gazillion-selling disc 21 .
Rolling Stone reports that backstage at the Grammys, Adele said of her new album, "I'm not very far along. I've been having lots of meetings…but I've been out the loop, really."
That's understandable, given that Adele just welcomed her first child in October. Rolling Stone reports that she told reporters, "I've just been singing my baby nursery rhymes, so I don't really know what's cool and what's not."
However, Adele said that she does have plans to team up once again with Paul Epworth , her collaborator on "Rolling in the Deep," "Skyfall" and other tracks. "I'm definitely going to visit with Paul Epworth and talk about doing that again," she said.
Meanwhile, speaking of her baby, on the red carpet, photographers caught Adele sporting a tattoo behind her right ear: a capital letter "A" in script. Is this another clue that Adele's baby son is named "Angelo?" She was seen wearing a necklace with that name a few weeks ago.
Copyright 2013 ABC News Radio