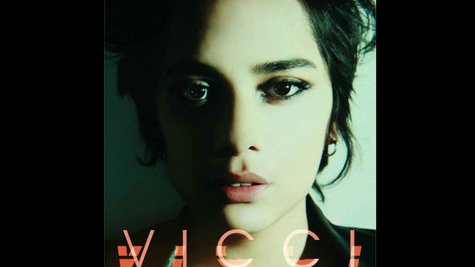 The main argument for American Idol , and against X Factor and The Voice , is that the contestants of the latter two shows have failed to score any actual hits on the chart. Well, things are turning around for at least one Voice alum.
Vicci Martinez , who tied for third place in the first season of The Voice , is actually doing pretty well on radio with her single " Come Along ," featuring her mentor, Cee Lo Green . The song appears on her major label debut, Vicci, which has been available digitally for a while, but arrives in stores in physical CD form on Tuesday. She says that's a vote of confidence in her success, because the record company wouldn't have made an actual CD if the song hadn't been doing okay.
Talking about the decision to hold off on an actual in-store release, Vicci tells ABC News Radio, "People have said, 'The problem with The Voice is, there hasn't been anybody that's broken out,' and I think with me, they wanted to give it a chance to develop and see how people were gonna react."
She adds, "At first, I was just a little bit like, 'Why isn't my record in stores?' or, 'They've given up on me,' you know...[but] it kinda pushed me to go out and [promote the record] and let them know I believe in this song. Now, the reward is so much sweeter, because it's like we proved ourselves."
One reason people might be paying attention to "Come Along" is because Cee Lo is featured on it, but she says that wasn't a given, even though he was her coach on the show.
"It was just an idea that was out there. I didn't expect Cee Lo to even have time to do it. That guy's a busy man," says Vicci. "I had already recorded it, [and I] played it for him and he liked it so much, and said, you know, he'd definitely be up to doing something. So, thankfully, he did." The two plan to shoot a video soon.
Meanwhile, Vicci is traveling all over the country playing live shows, and she says she's been winning over people who never even watched her on the show. "Sometimes people think that they're offending me because they say, 'Oh, I'm sorry. I didn't see The Voice but I like this song! I like what you're doing!'" she laughs. "That to me, it's like, 'Well, good!' That's even cooler to me because it's like the song is making a difference."
Vicci already had fans before she auditioned for The Voice , since she'd released many albums independently and played all around the country. But she says that it doesn't matter how many fans you had before or even during the show: it's what happens after that counts.
"I don't think that makes any difference," she tells ABC News Radio. "You know, if you have a good record and you're gonna put out good songs...I didn't win the show but I'm the one who's actually charting and I'm on the radio." Says Vicci of The Voice , "It gives you that platform to get an audience but then, after that, you kinda have to hold your own, and it's up to you."
Copyright 2013 ABC News Radio