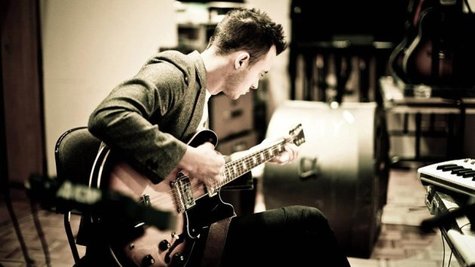 Joe King , guitarist for The Fray , has co-written the band's hits, but he's never been the one to sing them: that's front man Isaac Slade 's job. Now, Joe is stepping out solo, with a new project he's simply calling KING, and he's stepping up to the mic as well.
Speaking to Hitfix.com , Joe says, "There comes a bit of a downside when you're writing these songs, and you end up letting your best friend sing them." He adds, "It's worked, and he's the only other person I ever want to sing them. He's a great singer, and I'm not trying to throw that whole thing. But creatively, it became such an urge. I kept thinking 'I'm ready for this.'"
Joe also was inspired creatively by the fact that at the age of 32, he's single for the first time since he was 19, following a recent divorce. "Post-divorce and dating girls…Man, yeah, I've never done that. I've only been with one woman, so I definitely started to experience things and new ways of thinking," he tells HitFix . "Making this album became this self-discovery thing."
The guitarist, who says his music sounds nothing like The Fray, plans to release a five-song EP in April. As for the band, they're not breaking up: they're planning a new album for late 2013.
Copyright 2013 ABC News Radio