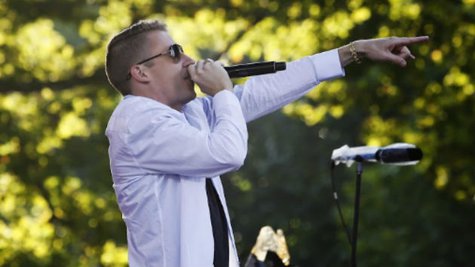 Macklemore and Ryan Lewis had a great 2013 -- three big hits, a huge tour and several major awards -- and they're capping it off by playing live in New York City's Times Square as part of ABC's Dick Clark's New Year's Rockin' Eve with Ryan Seacrest. But as the duo transition to a quieter time and prepare to record a follow-up to their hit album The Heist , Macklemore says he's fearful that the substance issues that have plagued him in the past may resurface.
"For me, what is a temptation is coming home off of the road, which is why this time period is interesting," the rapper, born Ben Haggerty , told ABC's Dan Harris . "This is when I've fallen back before."
Macklemore's musical partner, Ryan Lewis , said Macklemore's issues with drugs and alcohol also affected their professional relationship. "We didn't work for the first three years that I knew him," Ryan recalled. "And I think [substance abuse] was probably at the centerpiece."
When he's healthy, Macklemore's working relationship with Ryan, whom he met on MySpace eight years ago, is more collaborative than many fans might realize. "I'm critiquing lyrics for sure," said Ryan. One song where Ryan weighed in heavily was "Same Love." The gay rights anthem won an MTV VMA for Best Video with a Social Message this past summer and has earned the duo one of several Grammy nominations.
"I was sent a story from my mom about a gay, bullied kid who committed suicide," Macklemore said. "It started with me writing from the perspective of that kid, trying to take it on from his vantage point. And as usual, I kind of liked what I wrote."
But when he brought it to Ryan, Macklemore recalls, he suggested the rapper go in a different direction. "Ryan was like...'You know what? This isn't your story to tell,'" said Macklemore. "'You have a story. You have a vantage point, but it's not this.'"
Macklemore said Ryan's advice helped him to better craft the song, and he included mentions of his uncle, who's gay, and his uncle's longtime partner, as well as his own confusion about his sexuality when he was in the third grade. "I was like, 'Okay, I do have a vantage point,'" he concluded.
After hustling and scraping to make it for years, Macklemore and Ryan Lewis can finally enjoy the spoils of success. Enjoying the ride is a priority for Macklemore, now and in the new year. "I don't want to look back and be like, 'You had it all, and you weren't even present for it. You weren't able to enjoy it,'" he said on GMA . "I want to be here, be now and be grateful."
Copyright 2013 ABC News Radio
Unfortunately your browser does not support IFrames.