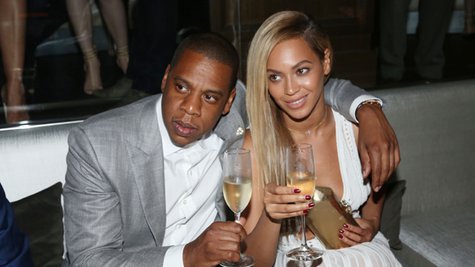 Jay Z and Beyonce 's vegan diet is officially over after the rapper announced on his 44th birthday, that he and wife were embarking on a vegan diet for 22 days.
According to E! News , the pair celebrated the completion of the challenge by visiting Pappadeaux Seafood Kitchen in Norcross, Georgia, over the weekend. On Sunday, the couple also consumed non-vegan entrees at Miami hot spot Seasalt and Pepper.
A source tells the New York Post 's Page Six that the restaurant's chef Alfredo Alvarez visited the power couple's table to specifically ask them what they'd were craving and the pair requested pappardelle, lobster risotto and seafood casserole.
Afterward, Jay and Bey bumped into singer Gloria Estefan and her husband, Emilio , and the couples snapped a picture together, which Gloria posted on Twitter .
"Ran into the incredible @Beyonce & @Jay-Z post Dolphin game @ Sea Salt on the Miami River, sweet, Em was catatonic!" Estefan tweeted referring to her daughter's reaction to meeting the power couple.
Copyright 2013 ABC News Radio