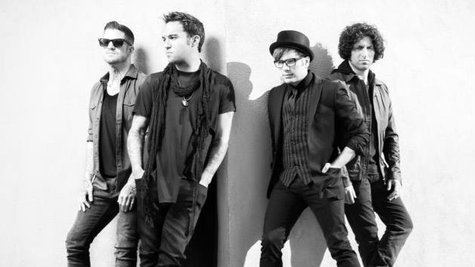 Out of all the acts who'll be performing on Dick Clark's New Year's Rockin' Eve with Ryan Seacrest Tuesday night, very few of them could be described as rock -- you've got Rock and Roll Hall of Famers Blondie and Billy Joel , but in terms of current acts, there are only two who've appeared on the rock charts as well as on the pop charts: Fall Out Boy and Capital Cities . Both acts will be performing during the West Coast party portion of the telecast, which is hosted by Fergie .
Fall Out Boy frontman Patrick Stump says he's looking forward to performing on the telecast, mostly because the show has always been a part of his New Year's Eve experience. "I just remember it being the standard thing…that's what you do on New Year's," he tells ABC News Radio. "You have the TV on...and that's the countdown that we watched and everything. So…that's all of my New Year's memories, pretty much."
As for Fall Out Boy bass player Pete Wentz , he's thrilled the band gets to follow in the footsteps of some of his favorite artists. "We read a lot of musicians' biographies, or what they did, and...so many musicians have done things like this," Pete tells ABC News Radio. "And now it's really bizarre, because it feels like you're...stepping into shoes. We're one of those bands now; we get to play this. So that's a big deal."
Capital Cities' Ryan Merchant is of the same opinion, telling ABC News Radio, "It's always nice when people ask you to do interesting, fun things like this...it's an honor." His band mate, Sebu Simonian , says he usually makes it a point to watch New Year's Rockin' Eve every year, although he rarely gets to see the whole thing.
"I think it was just a ritual to turn on the TV about 15 seconds before the countdown for me and my family, because we were always...[still] eating," the singer tells ABC News Radio. "We start eating and then we don't stop right until the countdown, and then we sit in front of the TV and watch the countdown, and then move on to some more eating."
As for New Year's Eve resolutions, two of the members of Fall Out Boy are looking to make some serious improvements in 2014. Stump's goal is to be "more punctual," while Wentz is hoping to be less focused on his gadgets.
"I think my honest New Year's resolution is to work on being more present, just in general," notes the bassist. "I think that...all the tablets and everything that exists, a lot of people just space out. I space out a lot of the time. [I just want to] be there more...[and] always be checked in as much as I can."
Copyright 2013 ABC News Radio