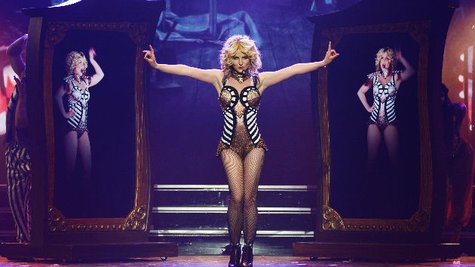 Back in the day, Britney Spears and the boys in 'N SYNC were very close, thanks to Britney's relationship with Justin Timberlake . But Monday night at her Las Vegas show, Britney got naughty not with Justin, but with another member of the group: Lance Bass .
During Britney's show Piece of Me , there's a part during the song "Freakshow" where she brings up a male member of the audience, who's then placed in a harness, forced to wear kitty ears and crawl on all fours while Britney spanks him with a riding crop. On opening night this past Friday, it was Mario Lopez who filled that role, but on Monday night, it was Lance.
Lance, who evidently enjoyed the experience, posted several photos of the moment on his Facebook page and tweeted , "Thank you for dressing me up as a kitty and spanking me! It's like old times. Xoxo Love ya!" Britney tweeted to Lance that it was "so good to see you."
It's not the first time that Britney's had Lance onstage for some naughty fun. During the final show of her Circus tour, during the song "Breathe on Me," he sat on a sofa on the stage while she gyrated provocatively around Lance in a skimpy outfit.
In related Britney news, as E! reports , a fan's video on Instagram shows that during Saturday's performance in Vegas, the entire back of Britney's costume came unzipped during the song "Circus" and threatened to fall off -- one of her dancers managed to zip her back up. "All eyes on me in the center of the ring," indeed.
Copyright 2013 ABC News Radio