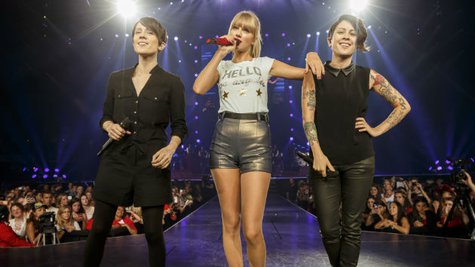 2013 was a big year for Canadian twin pop duo Tegan and Sara . The two have been making records since 1999, but this past year saw them score their first-ever hit on the Billboard Hot 100 chart with "Closer"; it was also featured on Glee in March. As a result, they expanded their fan base dramatically, and got to spend the year hanging out with other cool celebs...like Taylor Swift and fun. , for example.
Asked to name the highlights of the past year, Sara points to that night in August when Taylor Swift invited them to join her on stage at L.A.'s Staples Center for a rendition of "Closer," and called their album Heartthrob one of her favorites of all time. "We vote Taylor for president," the duo tweeted afterwards.
"The Taylor Swift performance at Staples Center in Los Angeles was really cool," Sara tells ABC News Radio. "We got to play on the Ellen show this year, which we really wanted to do. We toured with fun. all summer, that was really special." But she says there's something else that outranks all those things for her when she and sister Tegan look back on 2013.
"The truth is, the thing that I'm going to take away from this year, is just the positivity both from the press, from our fan base, from the new fan base," she gushes. "It just has felt like we took a risk, we did something different and it sort of has been rewarded and I really love that. I feel really great."'
Tegan and Sara have no plans to slow down in 2014, which is why Tegan says their New Year's resolution is to not let themselves get overworked. She tells ABC News Radio, "I think our New Year's resolution is to try to have a bit more balance. I mean, we've been working a lot and, and it's important to keep your home life steady."
"I think that we're at that age where we're starting to realize how fragile everything is around us, so you know, making sure that we're balancing all of that," she adds.
In 2014, Tegan and Sara will be one of the acts appearing with Paramore when that band does its first-ever fan cruise, Parahoy!, in March.
Copyright 2013 ABC News Radio