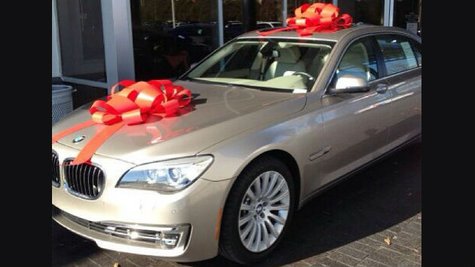 If you were disappointed with your Christmas gifts this year, you may want to avoid looking at Jordin Sparks' Instagram account, because that's where the singer is showing off what boyfriend Jason Derulo gave her: a brand-new BMW.
She posted a photo of the Champagne-colored car, and wrote, "I still can't believe it! He surprised me on Christmas but I wanted to make sure I wasn't dreaming before I posted it! ha! Thank you so much @jasonderulo ! I love you baby! Omg omg omg."
Granted, the car was likely a combination Christmas and birthday gift, since Jordin's birthday was December 22, but still: pretty nice. No word on what Jordin got for Jason.
On Instagram, Jordin marked her birthday by posting a photo of herself smooching Jason, and writing, " I can't help but be thankful. I'm thankful for another year on this this earth. I'm thankful for all I'm able to do. I'm so thankful for my amazing family...and I'm thankful for this man, who makes me feel like I am the most beautiful, loved & cherished woman to walk this planet. Thank you for my birthday weekend baby, it was the best one yet! I love you."
Copyright 2013 ABC News Radio