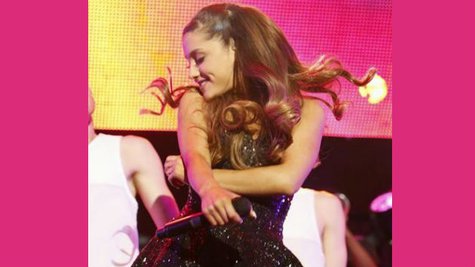 For years, Ariana Grande has spent New Year's Eve in New York City watching Dick Clark's New Year's Rockin' Eve on TV, instead of actually going to Times Square to see it first-hand. But this year, she'll enjoy the best of both worlds: she gets to participate in the show, without freezing her butt off.
Ariana is one of the performers on this year's installment of ABC's annual New Year's special, which has been airing for more than 40 years. She'll be singing during the West Coast party portion of the show, which is hosted by Fergie . "It's an honor [to do the show], because it's a family tradition," Ariana tells ABC News Radio, "Every year, my family and my best friend, Alexa , we go to New York and we watch it on the TV, because we're too chicken to actually go down in the freezing cold and watch it outside!"
"It's an honor to be a part [of it] finally, and all my family's at home having a heart attack right now," Ariana adds.
Other performers on the West Coast portion of the telecast, which officially gets underway Tuesday night at 8 p.m. ET with host Ryan Seacrest , include Jason Derulo , Fall Out Boy , Enrique Iglesias , Robin Thicke , Jennifer Hudson , The Fray , Florida Georgia Line , and Capital Cities .
Like the rest of us, Ariana also is busy making her New Year's resolutions for 2014. "I wanna read every night before bed. I've been doing it the past month and it feels really good to just disconnect, like, for a while before I go to sleep," she tells ABC News Radio. "And I wanna make more time to come home and see my family."
"I work a lot," explains Ariana, who became one of the breakout stars of 2013 thanks to her hit "The Way," her #1 debut album, Yours Truly, and her American Music Awards Best New Artist win. "And while that's very important, so is my family, and I feel like I slaved really hard all year this year, and I barely even saw my family," she confesses. So I wanna make that more of a priority and go home more."
Copyright 2013 ABC News Radio