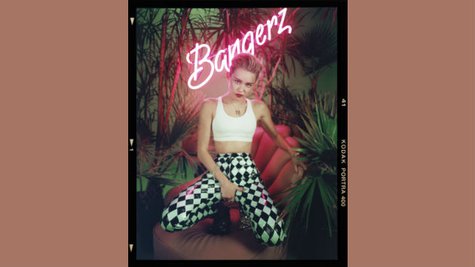 In 2013, Miley Cyrus grabbed headlines as she seemingly transformed from Hannah Montana into panic-inducing pop culture Public Enemy Number One. But now Miley tells The New York Times that she's largely misunderstood -- and despite what we've seen all year, she's not really a drug-and-sex-crazed, sledgehammer-licking, naked twerker.
"I went from people just thinking I was, like, a baby to people thinking I'm this, like, sex freak that really just pops molly and does lines all day," she tells the Times . "There's a sex scene in pretty much every single movie, and they go, 'Well, that's a character.' Well, that's a character. I don't really dress as a teddy bear and, like, twerk on Robin Thicke , you know?"
Miley also says the fact that Joe Jonas , in his recent tell-all about life as a Disney star, painted her and Demi Lovato as corrupting influences who forced him to smoke pot, was off-base.
"If you want to smoke weed, you're going to smoke weed," she tells the Times. "There's nothing that two little girls are going to get you to do that you don't want to do. I thought maybe he was saying that like it was going to make him look badass. We were so young that it's actually like, 'How did you get peer pressured by me?'"
That's not to say that Miley isn't aware of the effect that saying positive things about drugs might have. Asked if she missed out on appearing on the cover of Vogue magazine because of the flap over the MTV VMAs, she says, "I can't say too much. But it was where I was kind of going to have to do this trade-off, and I wasn't willing to. Right now, me doing any kind of cover for anything that's like, a Seventeen or Teen Vogue or whatever, the way that I talk isn't the way that people that are 17 really understand."
She adds, "There was a thing that Kurt Cobain said, something like, 'There's a special place in hell for people that glamorize drugs,' and I never want to be that person that's, like, talking to 16- and 17-year-olds and being like, 'Smoke weed.'"
"I've got a little sister. I don't want her to smoke weed, and it's not because I think weed is bad, but...she'll make the choice [when she's old enough]," Miley explains, "Or even, like, my language. I don't know how to not talk the way I talk...I just want to be who I am."
Copyright 2013 ABC News Radio