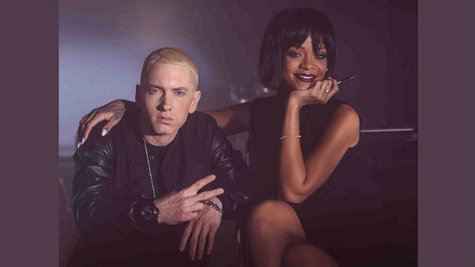 There hasn't been much movement on the Billboard charts this week.
Eminem and Rihanna 's latest collaboration, "The Monster," has retained the top spot on the Billboard Hot 100 for a third week in a row, and the rest of the top five are also the same: "Timber," "Counting Stars," "Say Something" and "Royals" remain at #2, 3, 4 and 5 respectively. And Lorde even has a little Christmas gift: her follow-up single, "Team," has now become her second top 20 hit, saving her from the dreaded "one-hit wonder" designation.
Meanwhile Beyonce 's self-titled disc tops the Billboard album chart for a second week. The surprise album has sold 991,000 copies in its first 10 days of release, according to Nielsen SoundScan, and is already the 12th biggest selling album of 2013. If sales continue at a similar pace, Beyonce could end up among the year's top-ten best-sellers by year's end.
In addition, a song from that album, "Drunk in Love," debuts at #12 on the Hot 100. That's her highest-charting hit as a solo artist in nearly four years, when "Sweet Dreams" hit #10 in 2009.
Copyright 2013 ABC News Radio