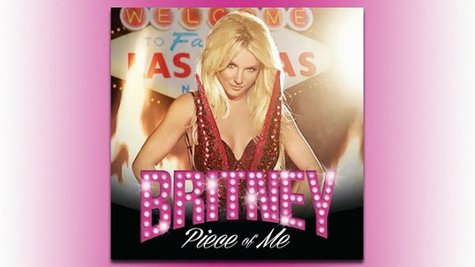 Most performers who sign up for Las Vegas residencies are veterans with decades of hits behind them. But starting Thursday night, Britney Spears will become the exception to that rule when her new show, Britney: Piece of Me , launches at Planet Hollywood .
"The goal...is to launch the first contemporary pop residence for a younger generation," a top Caesars Entertainment executive tells USA Today. "We wanted to take advantage of that population base of folks who don't want to simply watch a DJ spin. They also want to go see a major Vegas-style concert event, a big theatrical production with lots of spectacle."
And spectacle is what Britney's show will provide. According to the Las Vegas Sun , the show will feature Britney and 14 dancers busting out more than twenty of her hits over 100 minutes and seven separate "acts," complete with costume changes for each one. She'll "fly" over the audience, share the stage with a three-ton moving tree, and perform amid an array of pyrotechnics and simulated weather. There will also be a 280-degree laser-light show, video effects, moveable mirrors and other tricks.
"I think people should come to Planet Hollywood and see my show because I feel that it's going to be really different; it's different from anything that they've seen," Britney says. "It's very intriguing, and the show has a lot of dynamics, there's snow, there's water, there's magic."
"It's just a lot of fun, it's like a huge celebration," she adds.
All this will be taking place in a relatively intimate theater with a capacity of 7,000, as opposed to the huge arenas the singer usually performs in. There will even be a dance floor and bottle service for a "nightclub" feel, reports USA Today.
"I hope people feel like they're a part of the show. I want them to feel like they're in it with me," Britney says.
As for why Britney decided to make the move to Vegas in the first place, the mother-of-two is tired of dragging herself all over the world.
"It just seemed like the ideal thing for me," she explains. "I've been on the road all my life and I've been in different hotel rooms every night and to be able to have a place where it's just like one place, one destination, that just seemed ideal for me. And I love Vegas!"
The Las Vegas Sun reports that Britney's opening night audience is expected to include Miley Cyrus, Katy Perry , "Perfume" songwriter Sia , Adam Lambert and DJ Pauly D , as well as Britney's parents, her two sons, her sister and her boyfriend David Lucado .
As for what fans will hear each night, the set list is allegedly going to include everything from "...Baby One More Time," "Stronger" and "Oops...I Did It Again," to "Toxic," "Me Against the Music" and "Slave 4 U," to "Circus," "Piece of Me" and "Womanizer." Britney's recent singles "Perfume" and "Work B***h" also reportedly are part of the setlist, as is her collabo with Will.i.am , "Scream and Shout."
Copyright 2013 ABC News Radio