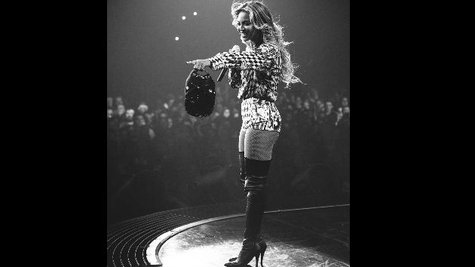 Beyonce has a heart of gold. Earlier this year, she invited a legally blind fan to help her sing "Irreplaceable" during the Perth, Australia stop of her Mrs. Carter Show World Tour. Now, the singer has given a terminally ill fan her dying wish: a dance with Beyonce.
A young girl named Taylon , who has an inoperable tumor on her brain, got the chance to groove with Beyonce at the Mrs.Carter Show World Tour stop in Las Vegas. In concert footage, which was posted on Bey's official YouTube page, Taylon is seen entering the venue in a wheelchair and waiting patiently alongside her family for Beyonce to hit stage.
"I found out that I was coming to this concert a couple days ago I believe," she says during an interview, "I am having so much fun, I can't wait to see Beyonce."
Moments later, the diva glides over suspended by cables from the main stage and immediately gives the young girl a hug and kiss on the cheek.
"Nice to meet you," Beyonce says as tears stream down the girl's face. "Hello Taylon." The diva returns to the edge of the stage and kneels down before her overwhelmed fan and belts "Love on Top" while getting help from Taylon, who chimes in on the hook.
Shortly after, Taylon manages to stand on her only leg and dance with Beyonce to the Destiny's Child 2001 hit "Survivor."
"I'm a survivor, I'm not gonna give up, I'm not gonna stop, I'm gonna work harder," Bey sings while touching Taylon's cheek. Together they pump their fists in the air before Beyonce returns to the main stage. Meanwhile, a visibly shaken Taylon gets embraced by her mother and says, "Oh my God mom, oh my God."
"Thank you so much to the Make-a-Wish Foundation for making Taylon's dream come true," Beyonce wrote on her Facebook page.
Copyright 2013 ABC News Radio