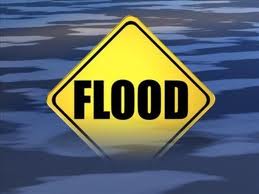 Authorities have been busy dealing with many calls for help due to flooding throughout the two state area.
Many roads are closed and motorists will be forced to take detours for a while.
Click this link to go to the INDOT web page : "Road Restrictions & Closures"
Meanwhile, Indiana Conservation Officers were called out to help a 500-pound black bear, stranded in its cage in Shelby County. The owner was force to evacuate due to flooding and the bear was left behind.
Officers found the animal in about four feet of water in its 10-foot by 12-foot enclosure.
Due to safety concerns officers were not able to tranquilize the bear but officers were able to enter the enclosure and create an elevated platform for the bear to get above the water.
If you have a permit and follow the law you can keep a black bear.