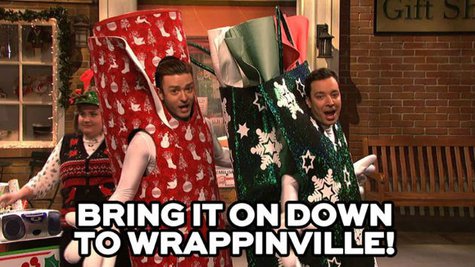 When Justin Timberlake made his second Saturday Night Live appearance of the year this weekend -- this time as the musical guest, not the host -- he was nearly overshadowed by the surprise appearances of three music legends: Sir Paul McCartney, Madonna and Barry Gibb of The Bee Gees.
Paul McCartney is a frequent musical performer on Saturday Night Live , so perhaps it was no surprise that he popped up unexpectedly. He appeared during host Jimmy Fallon's monologue; Fallon announced he was planning to sing with three of his biggest musical influences: McCartney, Bob Dylan and David Bowie. Unfortunately, Fallon said, all three of them were stuck in traffic in New York City's Lincoln Tunnel and couldn't make it. Fallon then proceeded to sing "Joy to the World," mimicking both Bowie and Dylan, but when he got to the McCartney part, it was Paul himself who showed up; the two then duetted on "Have Yourself a Merry Little Christmas."
As for Barry Gibb, he showed up at the end of the popular Barry Gibb Talk Show sketch that Fallon and Justin have been doing for years. Madonna played herself as a guest on the talk show. When asked by Fallon, who was portraying Barry Gibb, what her opinion is on the divisive state of politics in the U.S., she said, completely straight-faced, "I'm glad you asked that, Barry. In my experience, politicians...it doesn't matter what country you come from. As long as they don't put their personal ideology above doing the right thing, then there will be unity. It's simple."
When she tried to make another point, though, Fallon-as-Gibb cut her off, yelling and screaming at her. Madonna simply slipped in her "grille" -- the mouth jewelry she's worn on and off this past year -- and stood her ground, until he backed down. As for the real Barry Gibb, he didn't do much except sing the show's theme song at the end of the sketch. Madonna also helped introduce Timberlake's performance. The connection? The two had scored a hit duet together -- "4 Minutes" -- back in 2008.
As for Justin he performed two songs -- "Only When I Walk Away" and "Pair of Wings" -- from his album The 20/20 Experience -- 2 of 2 . He also appeared in several sketches: in addition to The Barry Gibb Talk Show , he reprised his popular "Bring it on down to..." sketch, where he plays a guy promoting some kind of business while wearing a funny costume, dancing and singing. This time, Fallon joined him; they were both dressed as gift-wrapped presents, and they promoting their gift-wrapping business, "Wrappinville."
In a Family Feud sketch, Justin played Jimmy Fallon, while Fallon played Big Bang Theory star Jim Parsons . At one point, Fallon found Justin's portrayal of him as a super-hyper, perpetually-over-excited guy, so funny that he ducked behind the podium so nobody would see him laughing hysterically.
Copyright 2013 ABC News Radio