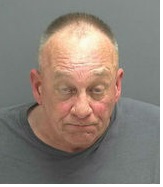 A man from Daviess County is facing serious charges after beating a pregnant woman with a vacuum cleaner.
Officials say Ronald Williams fired a shotgun at a pregnant woman several times and hit her in the stomach with a vacuum Thursday night in Odon, Indiana.
Williams is currently detained at the Daviess County Security Center.
He's held on a $1 million bond.