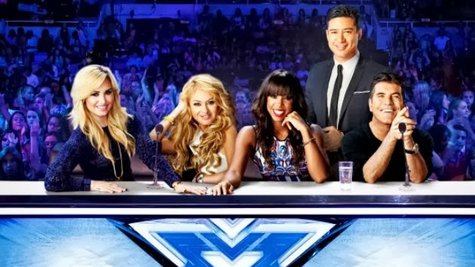 Alex and Sierra won the third season of The X Factor Thursday night. Simon Cowell 's folk/pop music duo was declared the new champ at the end of a two-hour results show on Fox.
Rock singer Jeff Gutt [goot], who was a member of Kelly Rowland 's "Over 25" category, was the runner-up.
Alex and Sierra receive a million-dollar recording contract with Sony Music. After the final announcement was made by host Mario Lopez , the emotional boyfriend-girlfriend act reprised their Wednesday-night performance of "Say Something," by A Great Big World .
Simon said of his victory, "I feel like Christmas just came early."
The third finalist, Carlito Olivero , was eliminated earlier in the show. He was mentored by Paulina Rubio as part of her "boys" category.
Demi Lovato , who mentored the "girls" this season and who has confirmed she is leaving The X Factor , didn't have any contestants in the finals.
The results show offered plenty of performances. Each of the finalists delivered a rendition of a Christmas classic: Alex and Sierra, with Mariah Carey 's "All I Want For Christmas Is You"; Carlito, with Darlene Love 's "Christmas (Baby Please Come Home)"; and Jeff, with "O Holy Night."
In addition, Jeff joined Alex and Sierra for a cover of "Love Me Again," by John Newman .
As for the musical guests, One Direction sang their new single, "Midnight Memories"; Pitbull entertained the audience with "Timber," featuring pre-recorded vocals from the absent Ke$ha ; Leona Lewis performed "One More Sleep," from her album Christmas, With Love ; and Glee star Lea Michele sang her single, "Cannonball."
During the program, Lopez acknowledged the fact that Cowell will become a father in 2014. He then introduced a taped segment in which kids watched clips of Cowell insulting contestants, commenting that he was "mean" and had a "weird accent." Afterward, Lopez asked Cowell whether he was ready for fatherhood, to which he replied, "Not after that, no."
Fox has yet to announce whether The X Factor will return next year.
Copyright 2013 ABC News Radio