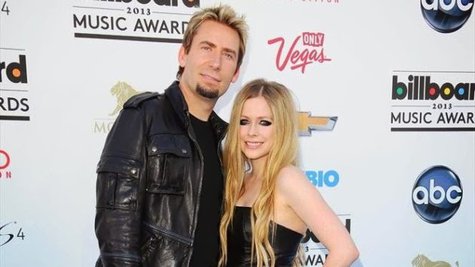 A couple's first Christmas as husband and wife is always a big deal: after all, the presents have to reflect the fact that they're not just dating anymore. But Avril Lavigne says she isn't expecting anything from her new husband, Nickelback 's Chad Kroeger... because he's already spent quite enough on a previous present.
"I already got a really great gift from him, which was my engagement ring," she tells ABC News Radio. "So I'm like, 'Hey, you never really have to get me anything ever again!'"
The ring in question is a whopper: a 10-karat pear-shaped diamond surrounded by an additional four carats' worth of diamonds, set in platinum. The estimated cost of the sparkler ranges from $350,000 to a million bucks, but nobody knows exactly how much it cost Chad. Either way, it's no wonder that Avril's satisfied.
In addition to having the present issue all sorted out, Chad and Avril have also solved the whole "whose family are we spending the holidays with?" dilemma that every married couple faces. The two have decided to invite both his and her relatives over to their house for one big party.
"We're gonna have the family get-together," she tells ABC News Radio. "We just got a new table; we're going to have to deal with all the travel arrangements to make it possible for everyone to be together at once, but...I want to cook, so we're really excited." Avril is mostly a vegetarian, and her specialties are things like vegetables and salads. "I love cooking, and everybody likes my cooking because I make different things than they're used to and I like that, it's cool," she laughs.
The singer will finish up her last show of the year on Friday in Sunrise, Florida. After the New Year, she'll kick off a world tour in Japan on February 3.
Copyright 2013 ABC News Radio