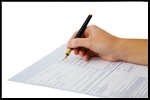 If you want to file your taxes early so you can get an early refund, you will have to wait an extra 10 days this season.
The Internal Revenue Service said Wednesday the government shutdown has forced it to delay tax filing season until Jan. 31.
It had been slated to start Jan. 21.
Some taxpayers file early to get quick refunds.
The April 15 deadline for filing individual tax returns, which is set by law, remains unchanged.