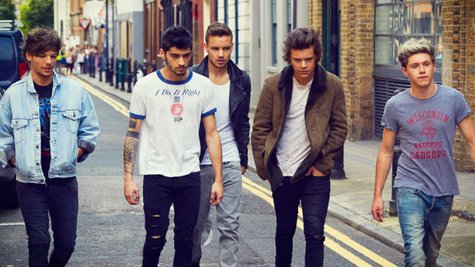 One Direction has taken time out from their busy schedule to record a special video message for a very special fan of theirs.
Last Friday, 17-year-old Claire Davis , a student at Arapahoe High School in Colorado, was shot at point-blank range by a fellow student. Claire, a big 1D fan, is now in a coma, and according to TheDenverChannel.com , her friends started a social media campaign to encourage the group to travel to Colorado to visit her. Her friends have been tweeting the hashtag #Get1DtoClaire, and have also set up a Twitter account called Pray for Claire D .
Well, the campaign got the group's attention, and now they've recorded a YouTube video in which they wish the teen well. In the clip, Liam Payne says, "Hi Claire, we've heard you're a big fan and we just wanted to show you some love. What's happened to you is absolutely terrible, it's something we can't bear thinking about, so we just wanna share some love with you. All our prayers are with you and your family. Hope you get well soon...lots of love." Louis Tomlinson then blows a kiss.
1D's spokesman tells TheDenverChannel.com, "It's truly amazing that the fans really came together to raise awareness and show their support. The bands' thoughts and prayers are with Claire and her family."
Last Friday, 18-year-old Karl Pierson entered Arapahoe High School armed with a shotgun and a slew of other weapons. His apparent motive may have been "revenge" against the school's debate team instructor after he was kicked off the team. According to police, in less than 90 seconds, Pierson set off an explosive device inside the school and fired five shots, one of which hit Claire. He then took his own life.
Copyright 2013 ABC News Radio