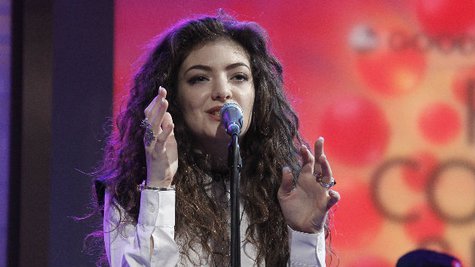 Looks like any hard feelings between Lorde and Taylor Swift are forgotten. A month after the two were spotted having lunch at Shake Shack in New York City, the two were photographed enjoying dinner at Hibachi Japanese Grill in Melbourne, Australia, according to SplashNews .
Taylor is currently touring Australia -- her tour wraps up on Saturday, the day after her 24th birthday -- and of course, Lorde is from that part of the world. In fact, in late November, fan video surfaced of Taylor on stage in New Zealand; in the middle of performing "22," she apparently greeted Lorde, who was in the front row at the show.
You may recall that Lorde initially caused controversy by saying in an interview with New Zealand's Metro magazine, "Taylor Swift is so flawless, and so unattainable, and I don't think it's breeding anything good in young girls. [They'll say] 'I'm never going to be like Taylor Swift, why can't I be as pretty as Lorde?' That's f***ing bullsh*t."
After Taylor's fans attacked her for her comments, Lorde apologized to Taylor on her Tumblr, saying, she was just trying to make a point about the emphasis on "physical perfection in this industry." She added, "I am very very new to this whole thing. I will probably never be the kind of role model for my fans that [Taylor] is for hers. I admire her very much for this reason. Basically, this is an apology for not thinking too hard before I speak."
She also said of Taylor, "[She] has a very unique vision, which I admire."
Of course, there's still the matter of Lorde calling the lyrics of "Come and Get It", by Taylor's BFF Selena Gomez , "pathetic." Wonder if they discussed that over dinner?
Copyright 2013 ABC News Radio