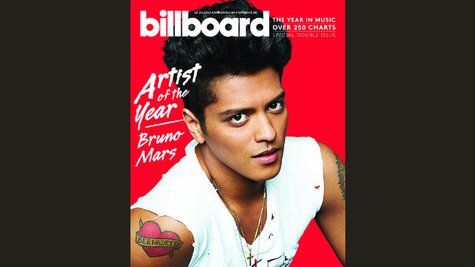 Bruno Mars was all over the charts in 2013 with hits like "When I Was Your Man," "Treasure" and "Locked Out of Heaven," which is no doubt one of the reasons why Billboard magazine has named him its Artist of the Year. Bruno topped eight of the publication's year-end charts, including Top Overall Artists, Top Hot 100 Artists and Hot 100 Singles Airplay.
Bruno tells Billboard , "There's been so many awesome moments this year. The highlight was going on tour, and doing the Moonshine Jungle tour with my boys, with my band and being able to see the world playing these songs." He adds, "I feel like I'm just getting started!"
Bruno is marking this achievement by announcing the next leg of his Moonshine Jungle world tour: it'll visit arenas and amphitheaters across North America beginning in the summer of 2014. While cities have been announced, exact dates and ticket information is coming soon. Cities include Boston, Calgary, Chicago, Cleveland, Los Angeles, Toronto, Tulsa, Cincinnati, Buffalo, Birmingham, Detroit, San Jose, Raleigh, New York City, Montreal, New Orleans, Omaha, Memphis, Milwaukee, and Ottawa. Visit the " Moonshine Jungle Tour " section of BrunoMars.com for a full listing.
Bruno, who just received four Grammy nominations, will close out 2013 with two shows at The Chelsea, the new room at the Cosmopolitan, Las Vegas, on December 29 and 31. He'll return to The Chelsea for an extended engagement through 2014: February 15 and 16, May 23 and 24, and August 22 and 23.
And, of course, 2014 will kick off with a bang when Bruno and his band, The Hooligans, headline the Super Bowl Halftime show on February 2 in New Jersey. "Expect to have some fun with us," says Bruno of the performance. "They keep telling us it might be freezing out there and we've never performed in such conditions, but we're all excited!"
Copyright 2013 ABC News Radio