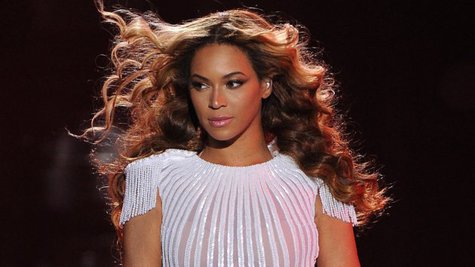 We can all stop speculating when Beyoncé 's next album will drop, because it's already here.
Late Thursday, she surprisingly released a self-titled album exclusively on iTunes . Her fifth studio effort, described as a "visual album," contains 14 songs and 17 videos.
B says in a statement, "I didn't want to release my music the way I've done it. I am bored with that. I feel like I am able to speak directly to my fans. There's so much that gets between the music, the artist and the fans. I felt like I didn't want anybody to give the message when my record is coming out. I just want this to come out when it's ready and from me to my fans."
Beyoncé's husband, Jay Z , is featured on a song titled "Drunk In Love," while their daughter, Blue Ivy , can be heard on another song, "Blue."
Her collaborators on the project also included Justin Timberlake , Drake , Frank Ocean , Timbaland , Miguel , OneRepublic 's Ryan Tedder , and her Destiny's Child band mates, Kelly Rowland and Michelle Williams .
Missing from the album: "Grown Woman," which was utilized in her Pepsi commercial, and "Standing on the Sun," which appeared in an H&M ad campaign.
The video collection, which was shot in cities ranging from Houston to Paris to Rio de Janeiro, does include a bonus "Grown Woman" clip.
In regards to the videos that accompany her new songs, Beyoncé says, "I see music. It's more than just what I hear. When I'm connected to something, I immediately see a visual or a series of images that are tied to a feeling or an emotion, a memory from my childhood, thoughts about life, my dreams or my fantasies. And they're all connected to the music."
Her label promises a double-disc CD/DVD set will be available in time for the holidays.
You'll recall that earlier this year, Jay Z also launched an album, Magna Carta Holy Grail , in unique fashion. In his case, it was as a giveaway via Samsung phones.
As if the release of her new album wasn't enough, Beyoncé has also debuted on Facebook part one of a mini documentary chronicling her work on the album.
Beyoncé is currently taking her Mrs. Carter Show World Tour around North America.
Here's the complete track listing for Beyoncé :
"Pretty Hurts"
"Haunted"
"Drunk in Love" (Featuring Jay Z)
"Blow/Cherry"
"No Angel"
"Yoncé/Partition"
"Jealous"
"Rocket"
"Mine" (Featuring Drake)
"XO"
"***Flawless" (Featuring Chimamanda Ngozi Adichie)
"Superpower" (Featuring Frank Ocean)
"Heaven"
"Blue" (Featuring Blue Ivy)

These are the videos included with the album:

"Pretty Hurts"
"Ghost"
"Haunted"
"Drunk in Love"
"Blow"
"No Angel"
"Yoncé"
"Partition"
"Jealous"
"Rocket"
"Mine"
"XO"
"***Flawless"
"Superpower"
"Heaven"
"Blue"
"Grown Woman" (bonus video)
Copyright 2013 ABC News Radio